Wisconsin farmers who changed Trump's wall for a "bridge" with Mexico
In territory of great "Trumpist" support and key to these elections, there are those who prefer to build bridges with Mexico instead of walls
Suddenly, the road ends and the names and numbers that identify it disappear. Instead, a single letter and an unpaved road, through which the animals cross without paying attention to the traffic and the occasional lie dead on the road.
All around, vast green and golden fields … and some small signs that stand out on the ground, with phrases difficult to read from the car.
"It's about the environment," one of them seems to say. "It's about you," continues the next.
In the background, the answer to my doubts, on the gate of one of the first houses that I find on the road: "Vote on November 3. Wisconsinites by Biden
Unlike pro-Trump posters, this is the first I see in favor of the Democratic candidate for the US presidency, Joe Biden, in tens of kilometers. And almost the only one of that large size.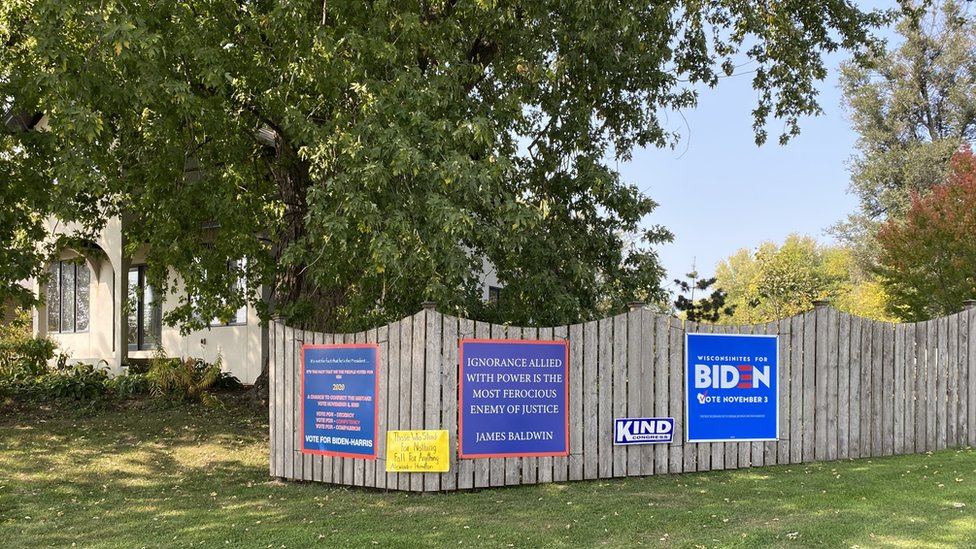 "They are my wife's thing … I am the handyman," says farmer John Rosenow jokingly in the garden of his house and without letting go of his little dog, who growls at the stranger until he is given some affection.
Rosenow says he is the "exception" in this small rural Wisconsin town, Waumandee, one of those that gave Donald Trump the surprising victory in 2016 and that these elections will also be decisive.
The state of Wisconsin had not voted for a Republican candidate since the 1980s but did so for Trump by a narrow margin of votes; a change that occurred, among other things, due to the support of rural enclaves like this one.
"Actually, my family and I have been the exception for 100 years," says the farmer with some pride.
But there is something in which his family also excels in this place: a project with which, while Washington's anti-immigration rhetoric intensified, he and other colleagues managed to break down barriers between the United States and Mexico.
They call it "Bridges" and it's the antithesis of Trump's wall.
A sector short of manpower
"That's where Roberto goes. You'll meet him later, we were playing golf yesterday. He's very hooked… like me, "Rosenow laughs at the beginning of the interview, pointing to the industrial vehicle that has just crossed the nearest road and whose roar cuts off our conversation.
In transportation, one of the Mexican workers who has been working the longest on this dairy farm, six; and the one who seems best to handle English.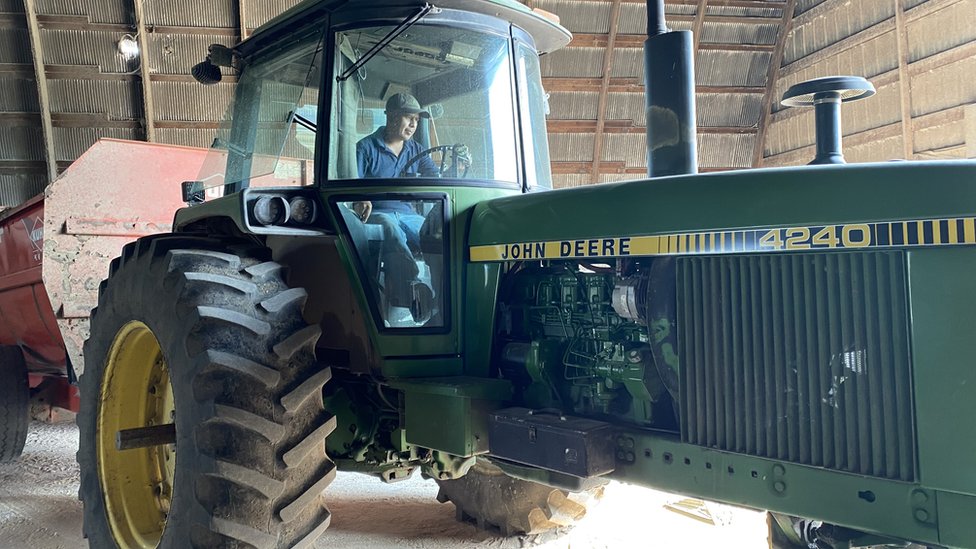 "He has been here since 4:00 am feeding the cows, " explains the farmer in the middle of the morning. More than four hours later, Roberto will still be there.
On this Tuesday in September, the activity at Rosenow's farm, "Rosenholm Dairy", seems to work like clockwork, despite the fact that the "boss", as his Mexican employees call him, spends part of the day showing the facilities to this BBC Mundo journalist.
The current situation is radically different from what they lived in the 90s , when nobody seemed to want to work here and the employees they found were not entirely reliable, so Rosenow would eat breakfast in his kitchen with his eyes on the barn, in case someone failed again and had to go to replace him.
"It was 1998, we couldn't find people locally anymore, so we reluctantly decided to employ immigrants," recalls the septuagenarian, who usually gets up at 3:30 am to be ready to work at 4:00 am, wearing his characteristic bib overalls. stripes.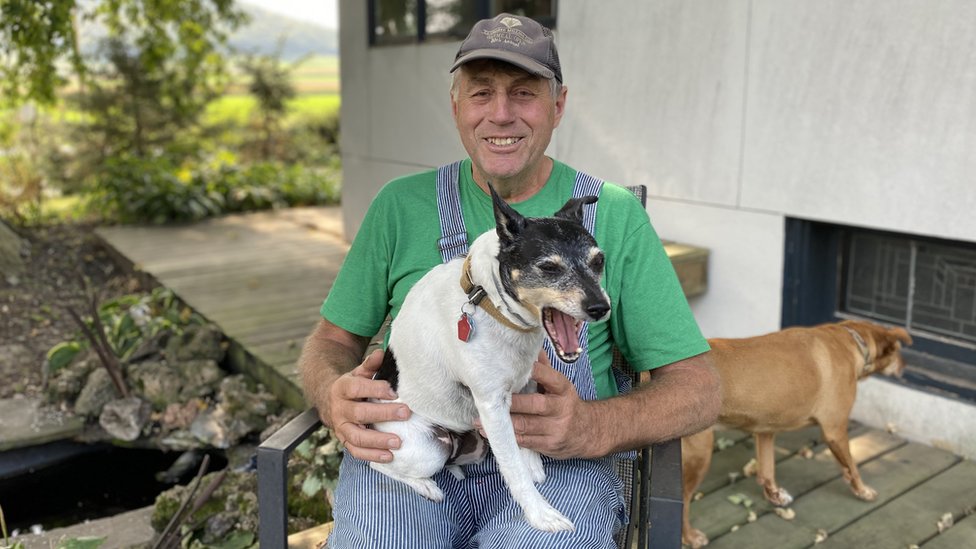 "The first one I hired was through a Texas company and it was fabulous. He worked for two months, but he felt lonely, because he was the only Mexican in a 100-mile radius, so he left. "
It was the beginning of a flow of immigrants, many of them undocumented – if not the majority -, which would no longer cease and which would end up saving their farm and that of many others, at a time of serious labor shortage and facing a market complicated in full globalization.
The number of immigrants currently working in the sector is difficult to establish. The latest national study conducted five years ago for the National Federation of Milk Producers estimated that they represent 51.2% of the workforce and that farms that employ immigrants produce 79% of the US dairy supply.
In the agricultural sector as a whole, Latinos represent 27.5% , according to data from the US Bureau of Labor Statistics published in 2019.
Mexicans solved the biggest problem in Waumandee, doing hard work — from 4:00 to 17:00 or more, and in winter temperatures that can drop below 10 degrees below zero; But they presented a new challenge.
"I soon realized that not knowing Spanish and nothing about the culture was a really negative aspect for me. If I was going to be a good employer, I needed to know all that, "says Rosenow, recalling some moments that frustrated him and that he finds funny today.
They then went to the area's high school Spanish teacher, Shaun Duvall, but she immediately saw that classes would not be enough and proposed a "immersion trip" to Mexico.
Rosenow admits that before going it seemed absurd to him ("why do so many kilometers with the technologies we have today?"), But almost two decades later, he does not doubt: "It was a revealing experience .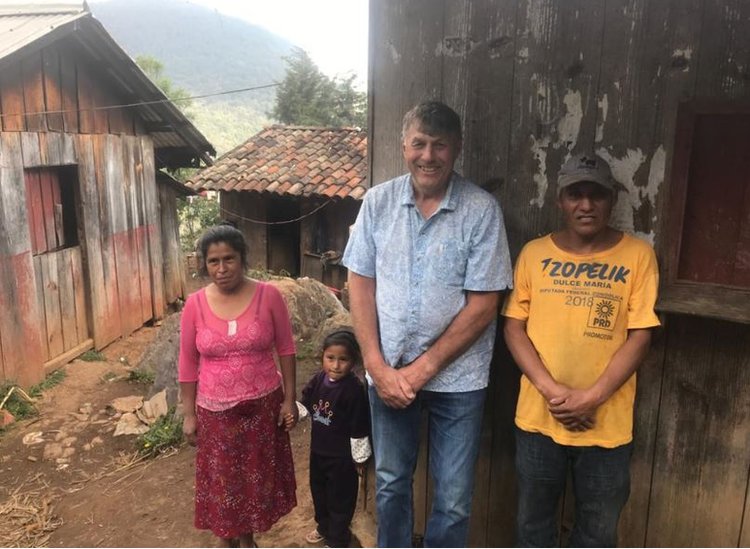 And it is that on that first trip, which was joined by 15 farmers and whose schedule consisted of classes in the morning and in the afternoon, which was presented as a casual idea – visiting the families of their employees during one of their days off – ended up becoming a revolutionary.
"A veteran journalist in Mexico told me that he had never seen anything like it," stresses Rosenow about that spontaneous visit, which his Latino employees cannot risk doing. His irregular situation makes him a danger: if they manage to leave, they may never be able to enter again.
"I told [Professor] Duvall that we couldn't let this die, so we drove everywhere, gave talks and raised money to help support the idea and get people to go. Some 150-200 people, mostly farmers, have gone [to Mexico]; I'm about 9 or 10 ".
Rosenow's activism has also led him to Washington on several occasions , where he spoke out and lobbied for the rights of his workers, many of whom are condemned to live in the shadows.
Bridges in the Trump era
The jovial Mercedes Falk shows up at the farm and all the Latino employees turn to greet her. "Hi! She says in perfect Spanish. "See you later in English class?"
That same afternoon he will be teaching a free course for workers who want or can attend, an initiative promoted by Rosenow. The subject is taught in the kitchen of the farm itself, a kind of living room, with a sofa and a small wooden desk, which today will house three employees.
"I have already been to Mexico four times. And on all occasions it was moving , especially seeing the reactions of the parents. They say, 'I didn't know that my son had a boss who cared so much to go all this way here.'
Falk took over the leadership of "Puentes," the non-profit organization they created to break down barriers, in 2017, after falling in love with country life and abandoning his urban life in his native Milwaukee.
The trips they take have changed a lot since they began in 2001: now the objective is not the Spanish classes, but the visit to the families.
"We usually spend 7 days: several whole days visiting relatives, some decompression and some tourism in the area near the towns where those close to them live," explains Falk.
"I do my best to prepare everything, to contact all the families, but, well, it's Mexico … Everything can change," he laughs. "This also helps farmers to understand the mentality of their employees," he continues, "they live there day by day and when they see it first hand, they understand many things."
The photographs that Falk shows of his travels are full of smiles on both sides, but they reveal the poverty and difficulties suffered by the Mexican communities they have visited, most of them in the mountains of Veracruz.
"It is especially heartbreaking to hear mothers talk about how much they miss their children. One of them told me that she had not seen her son for 15 years. You can feel his heart breaking and that part stays with you ", says the director, who acts as an interpreter on different farms.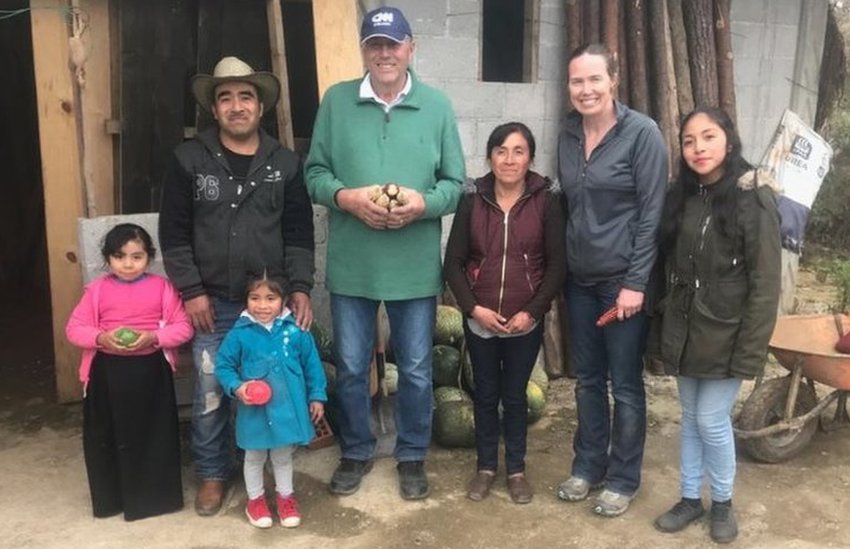 His message becomes even more relevant at a time of persistent attacks on immigrants by President Donald Trump and the tightening of anti-immigration policies that he has promoted since his arrival at the White House, marked by the separation of families at the border.
Trump achieved his victory with a campaign full of insults to immigrants and the promise to "build a wall" with Mexico, and under his mandate the number of migrant arrests at the southern border grew in 2019 (fiscal year) to its highest level in 12 years, according to the Pew Research Center.
The president also signed a controversial executive order expanding the authority of the Immigration and Customs Service (ICE) to detain "unauthorized" immigrants within the country, including those without criminal records, which led to some of the largest raids in centers. work in a decade and a 30% increase in arrests in fiscal year 2017.
However, the number of arrests in the country and deportations is still below that registered during the term of Barack Obama, the center says.
Nervousness
The small community of Waumandee voted for Trump in 2016, by 188 votes vs. 87 for Hillary Clinton, and in this campaign there are already several neighbors with posters in favor of the president at the doors of their homes or businesses.
The social disruption that is felt in other parts of Wisconsin and the country in the midst of high political tension does not seem to be a major problem in this enclave, where the neighbor is also the police commissioner and a childhood friend.
"Of course I know John's farm, I'm happy to point you out," an affable lady told me first thing in the morning at the only store that was open in the area, several kilometers away from my destination.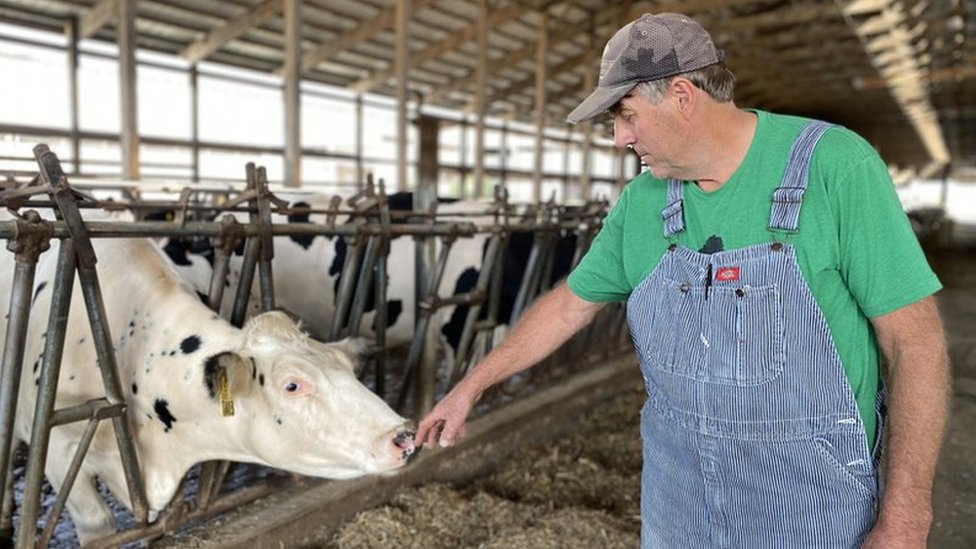 "I know that Trump supporters are actually good people and I get along well with them," Rosenow says, "If our cows run away in the middle of the night, they will be the first to help us. My wife, on the other hand, takes that issue worse.
When Trump's victory was confirmed, however, there was some nervousness in this region of west-central Wisconsin.
"The bosses were scared," recalls Roberto Tecpile, the Mexican worker with whom Rosenow shared "18 holes" the night before, of small stature and a young face.
The head of the farm explains that fear led many immigrant workers "to return to their homes" and several of the farmers in the area went through a "difficult" time due to the temporary shortage of labor
" They are the ones who need workers the most . And if Trump comes and takes them … there will be problems, "says Tecpile, while he is fixing a new fence so that the cows do not escape from the enclosure and a partner of Rosenow, another American farmer, brings him water to combat the heat, which begins be suffocating.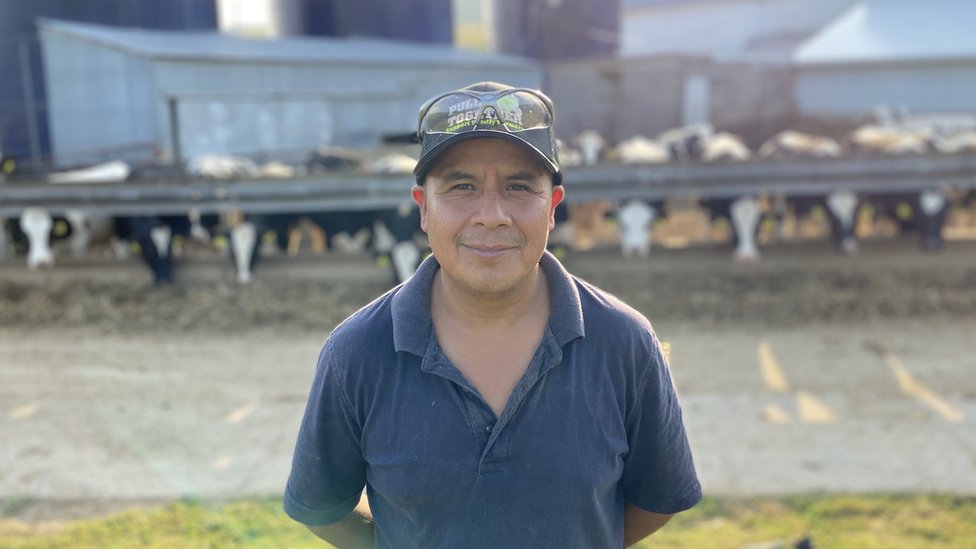 The Mexican began crossing to the US when he was single, risking his life in the desert for two days and two nights, and continued to do so as a married man, the last time leaving behind a newborn baby and two other children.
" I think we can only live like this. We cannot be together all the time (…) When you have a family, you have more responsibility. There is no money there, "he says of his home in Veracruz.
One of his colleagues, Moisés, 27, says that he will be leaving soon after several years working on this farm, perhaps never to return. "I leave before the cold arrives (…) It's very hard," he underlines in an interview with few words, in which he keeps repositioning his cap and moving his arms, notably nervous.
Immigrants often fill the most strenuous jobs in the dairy industry. A 2009 study from the University of Madison concluded that this group tended to be relegated to routine and poorly paid tasks , such as milkers or "pushers," cleaning manure from stables or taking cows to be milked, picked a special from the local newspaper The Milwaukee Journal Sentinel .
On average, workers in the sector work 57 hours a week and have less than 5 days off a month, the newspaper reported.
Tecpile knows well the difficulties of this job but also others of great manual effort: he has gone from being a baker or worker in Mexico, to cutting pines or making cigars in the US He has been part of a crucial group for the first world economy for decades , but still forced to live on the margins of society.
"Nobody has papers here, because the ranches cannot give us visas (…) The work that we do, because it suits the Americans. And I think that many do not want to work with Hispanics, but… ", Tecpile comments, as he continues to erect fences and fix them on the sandy ground, by force.
Suddenly, his mobile phone rings and a voice is heard in a language that is unintelligible to me.
– "She is the wife. He's speaking Nahuatl [the second most widely spoken language in Mexico], "he clarifies.
– "Orale, are you there with your boss or who are you with?", You hear her say, now in Spanish.
– "Here I am with a reporter from Spain. Can you say hello? "
The woman begins to speak in a shy but sweet voice and shares some of her fears: "Sometimes, I am worried about my husband and my son, but they say they are working well."
His son, a teenager who has not yet reached the age of majority, took the same path as his father recently and crossed with the help of coyotes, a decision that kept his parents in suspense, aware of all those who do not come out alive. of that same journey.
Today he is in Falk's English class and he is one of those who takes the most notes, despite the lack of interest he felt for the school in his hometown.
"He likes work, even though it's hard (…) But I think he's going to despair, " says Tecpile of her adolescent son. He, however, believes that he will stay until he has to walk "with a stick."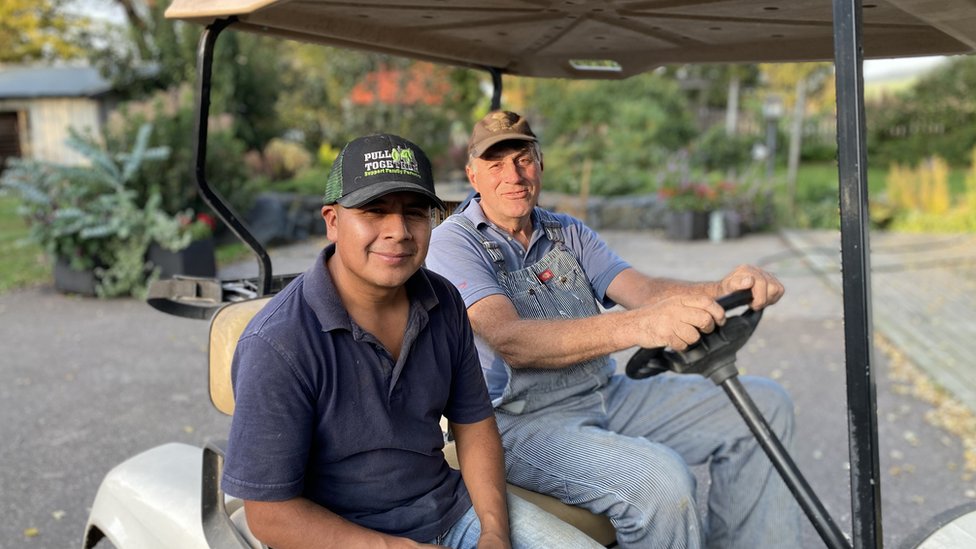 For Roberto Tecpile, "Puentes" is an unusual and good initiative. For Mercedes Falk and John Rosenow, the only possible way.
"Anyone who has the opportunity to get to know the other part of the story," Falk emphasizes, "can't help but go home with a different perspective, with empathy ."