Students: Places to be awarded using actual grades
Universities in England are to switch to offering degree places on the basis of actual grades rather than predicted ones, the government has announced.
In an interview with BBC Education Editor Branwen Jeffreys, Gavin Williamson said the present system held bright but disadvantaged pupils back.
He said he wanted all students to be able to choose the best university they can go to once they know their grades.
Universities have just backed such a change following a review.
Currently, pupils are offered places from universities ahead of their results, so decisions are based on predictions made by their teachers.
Once A-level, BTEC and other exam results are issued in August, candidates then accept or refuse offers they have received.
A consultation will be carried out but it is expected the change to what is known as a post-qualification admissions system will take place before the next general election.

Analysis by Education Editor Branwen Jeffreys
The current system relies heavily on predicted grades which puts academically high achieving pupils from poorer areas at a disadvantage.
Research this year from University College London found 23% of pupils from comprehensives were under-predicted by two or more grades, compared to just 11% of grammar and private school pupils.
But there are still big questions about how this would work, with universities favouring a system in which students would still apply before exams but receive offers afterwards.
Others may push for the more radical option of both applications and offers being made after results, pushing the start of term back to January for first year students.
Mr Williamson told the BBC: "I want all students to look at the grades they've got and then see what is the best university that they can get to, what is the best course they can do.
"I want to smash through these ceilings that are preventing them from meeting their full potential."
He said pupils from less-affluent, non-traditional backgrounds often did not have to the confidence to aim for a highly selective university, and also often lacked advice about how to reach such goals.
The move comes after years of debate over post-qualification admissions.
'Breeding unfairness'
Numerous academic studies suggest pupils from working class backgrounds, and some ethnic groups, tend to be predicted lower grades by their teachers.
The university admissions system was brought into sharp focus in the summer, when exam results were cancelled, leading to thousands of students losing the places they thought they had not qualified for.
Universities promised to offer as many places as they could if candidates received the grades they needed after results were re-issued.
Mr Williamson said the use of predicted grades limited "the aspirations of students before they know what they can achieve".
"We need to radically change a system which breeds low aspiration and unfairness," he added.
"We're going to deliver this before next election, we're going to do an extensive consultation.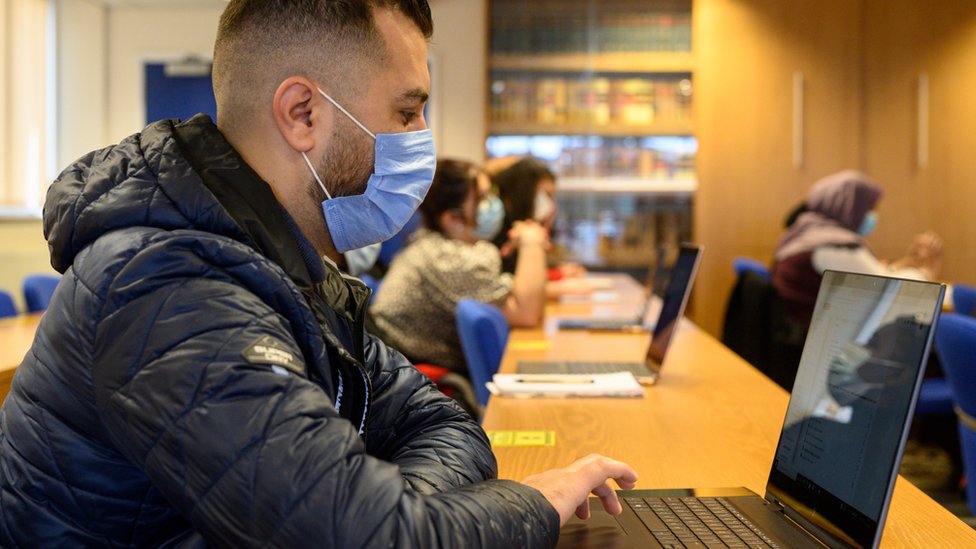 "But there's a real determination what we've seen in this pandemic, we've seen great challenges that society has had to deal with and as we move out of this pandemic we need to build back better."
Mr Williamson also criticised universities which offer inducements or conditional unconditional offers to some students to lure them on to their courses.
"What we've seen over the last few years is what I describe as a little bit of sharp practice where universities have been offering unconditional offers, more and more and creating incentives, in terms of offering laptops or cash back to those students, and that means those students aren't choosing the course and the university that is best to meet their future potential.
"We want to move away from that."
The plan has received a warm welcome from vice-chancellors' organisation, Universities UK, who had resolved to move to post qualification admissions following an 18-months review.
Jo Grady, general secretary of the University and College Union (UCU), said: "The current system is based on inaccurately predicted results and leads to those from less-affluent backgrounds losing out.
"Allowing students to apply after they receive their results will help level the playing field and put a stop to the chaotic clearing scramble."
Geoff Barton, general secretary of the Association of School and College Leaders (ASCL), said: "Teachers work hard and diligently to provide accurate predicted grades, but it is not an exact science and never can be.
He agreed: "Post-qualification admissions would be better and fairer."