Protests in Chile on the anniversary of the social outbreak end in church burning and riots
Thousands of Chileans came out to demonstrate in Santiago and other cities in peaceful marches, although there were isolated clashes with the police
First anniversary of the so – called " social explosion in Chile " was commemorated on Sunday with a series of mass manifestation ones that started peacefully and in some cases ended in riots.
The protests brought together some 25,000 people, including young people, adults and older adults, according to information from Carbineros de Chile reported by local media.
A large part of the protesters concentrated from around 10 in the morning in Plaza Italia, a nerve center of the Chilean capital, and in Plaza Baquedano.
There were also demonstrations in cities such as Valparaíso, Viña del Mar, Antofagasta and Concepción.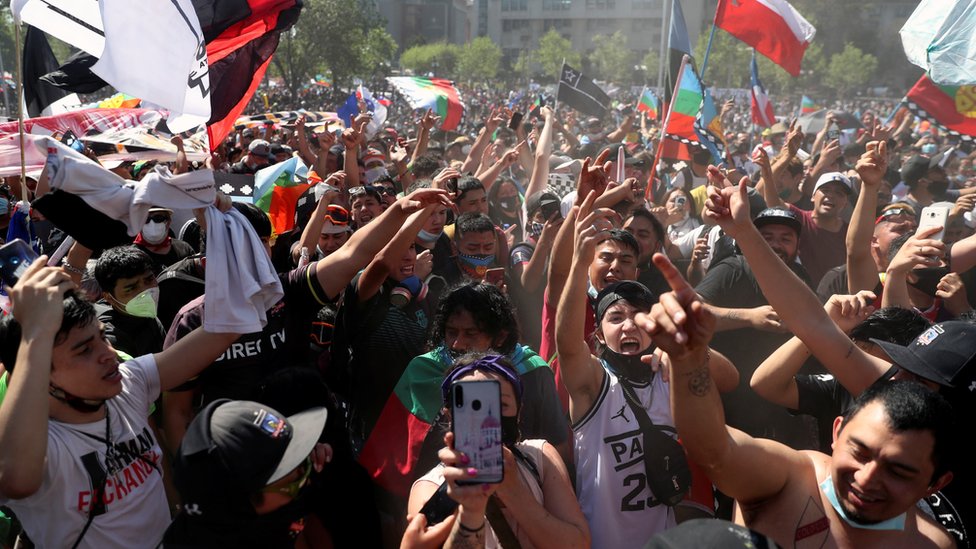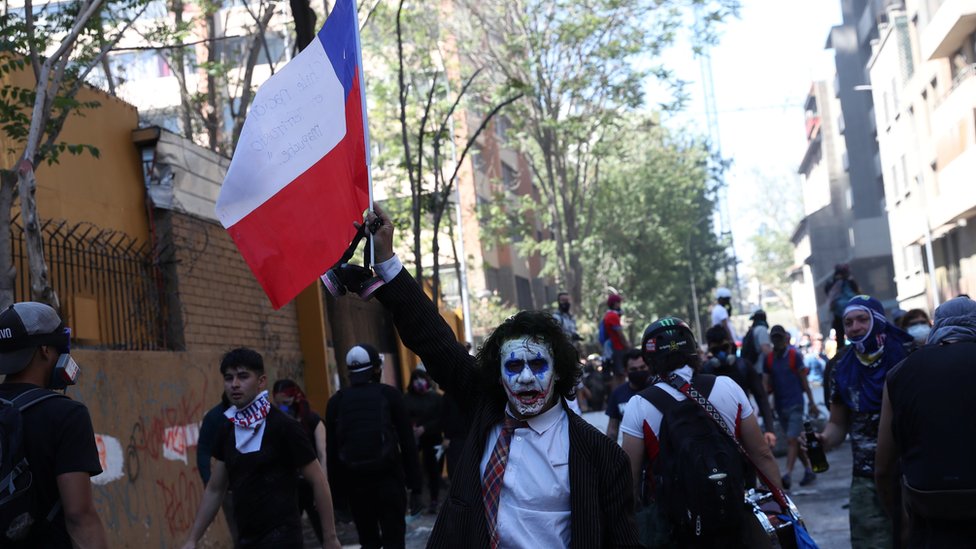 A year ago, the protests were sparked by the announcement of an increase in the Santiago metro fare, but then they spread towards social inequality and included demands such as reforming the pension, health and education systems.
The strong protests, which left more than 30 dead and thousands injured, faded in March, before the arrival of the covid-19 pandemic.
The demonstrations this Sunday were mostly peaceful. Participants danced and held banners in what was a "festive" atmosphere during the day, according to news agency reports.
Traffic in the center of Santiago was diverted due to the congregation of people and some accesses to the subway were closed for a few hours , according to the Carabineros.
Many of the participants demonstrated in favor of voting for the option of "approve" in the plebiscite that will be held on Sunday, October 25 in Chile, to decide whether to change the current constitution, which was promulgated in 1980, under the government of Augusto Pinochet.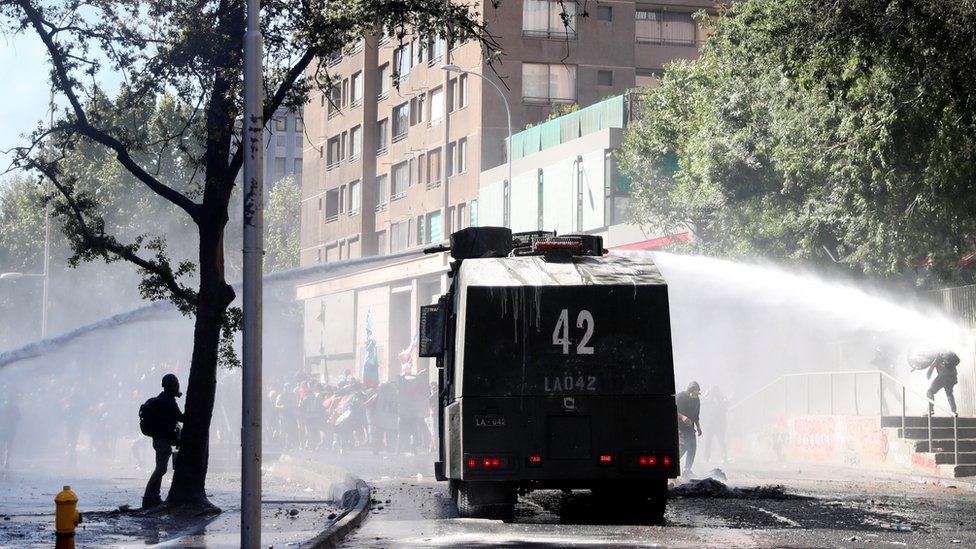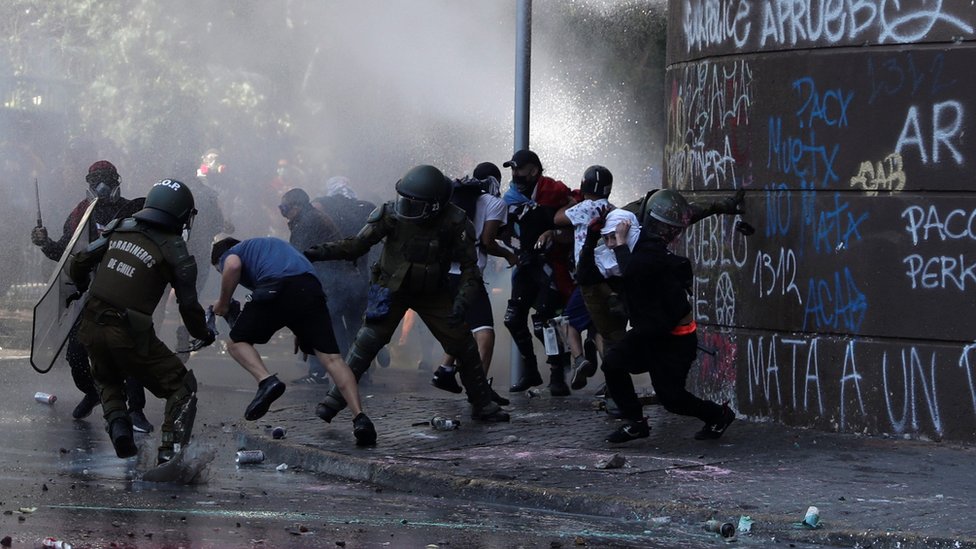 However, in the afternoon there were clashes between the protesters and the Carabineros and between soccer teams, according to local media.
Carabineros also reported looting of at least two business premises in the capital.
In addition, the protesters burned two churches in Santiago. The first was San Francisco de Borja, the "institutional" church of the Carabineros. According to this institution, the attackers also looted some pieces of the temple.
As a result, five people were detained. Another 10 people were detained for other disturbances in the Puente Alto area of ​​Santiago, according to Carabineros.
Hours later, other protesters burned the Church of the Assumption, one of the oldest in Santiago. The flames brought down the dome of this temple.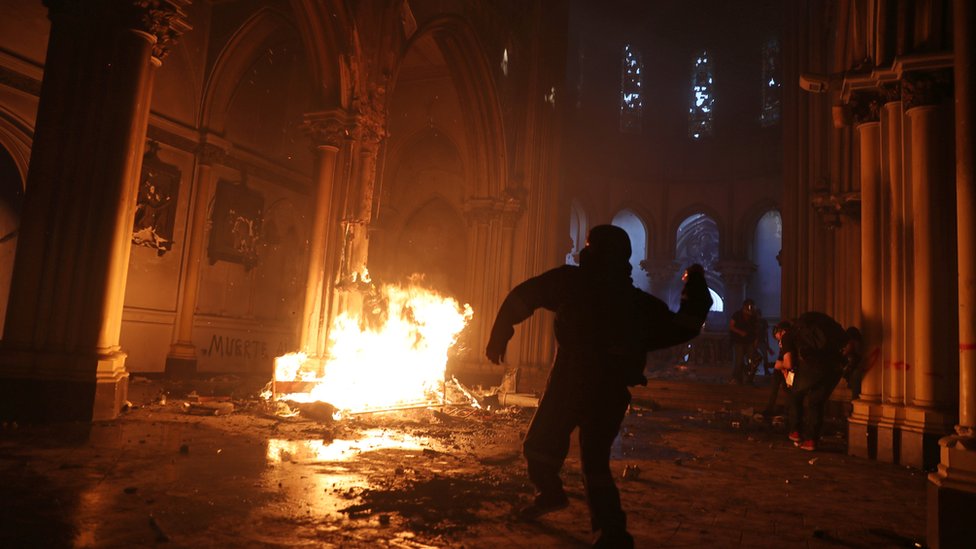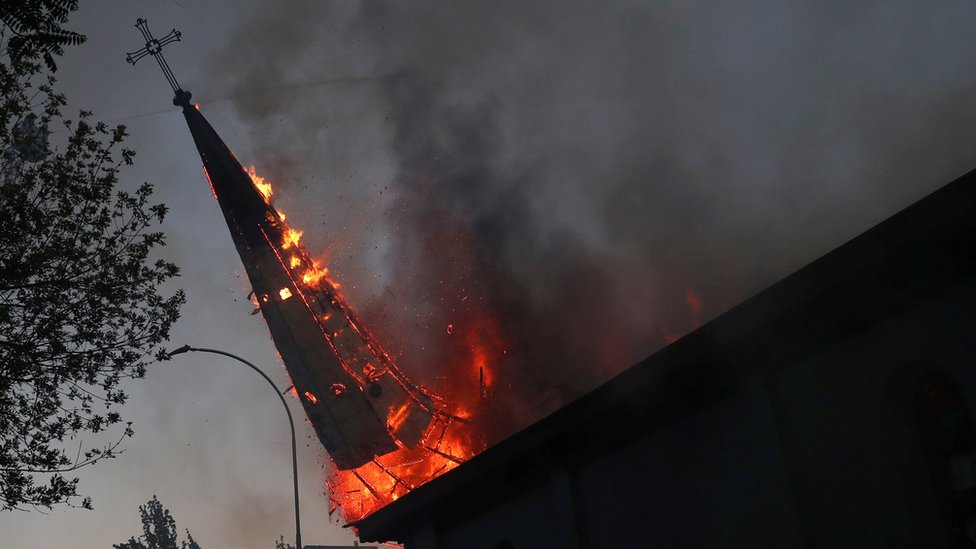 The Chilean Minister of Cultures, Arts and Heritage, Consuelo Valdés, expressed her outrage on Twitter at the damage to the churches.
"Indignation and sadness over the fire and destruction of the La Asunción parish, and the attack on the San Francisco de Borja church, both heritage buildings. Early tomorrow morning, a team from @Monumentos_cl [Chilean National Monuments Council] will review the damage to support their diagnosis, "Valdés wrote on Sunday night.
Chile's Interior Minister, Víctor Pérez, said that "burning churches, burning religious buildings is an expression of brutality" during a press conference.
According to the Carabineros, at least 18 agents were injured during the protests this Sunday.