Hurricane Zeta breaks a levee in Louisiana, about 400,000 without power
Hurricane Zeta weakens to a Category 1 storm with 90 mph winds as it moves south of Mississippi
The Hurricane Zeta tore roofs, downed power lines and trees and flooded streets when he came ashore in Louisiana on Wednesday night and moved to New Orleans , according to weather.com .
The National Hurricane Center (NHC) reported in its last part that at 700 PM CDT (0000 UTC), the center of Hurricane Zeta was located near latitude 30.2 North, longitude 89.9 West. Zeta is moving towards the north northeast near 25 mph (41 km / h).
On the forecast track, the center of Zeta will move from southeastern Louisiana to southeastern Mississippi over the next few hours and then move across the southeastern and eastern United States later tonight and Thursday.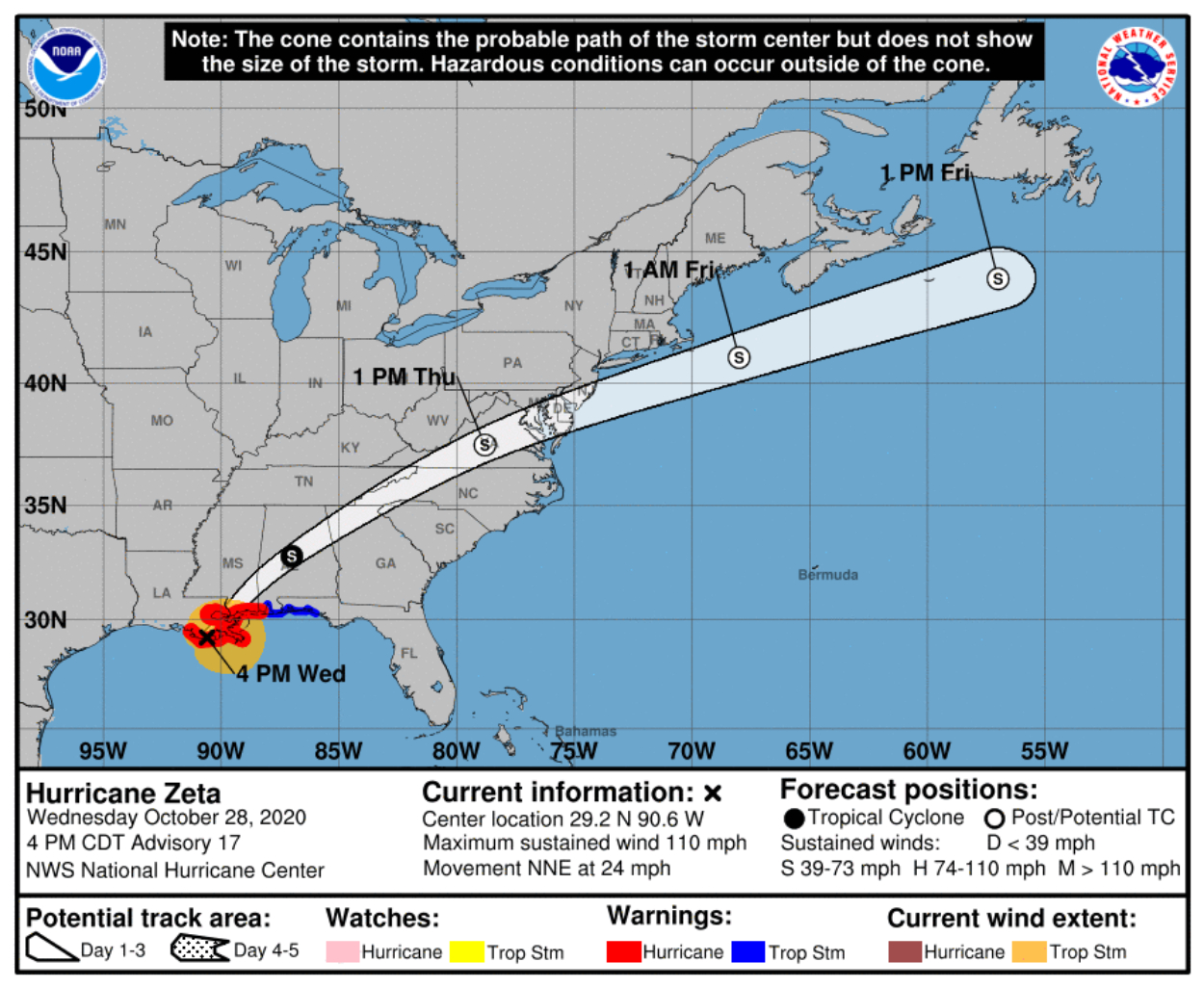 One person was taken to the hospital after the roof of a building collapsed in New Orleans , The Advocate reported
More than 390,000 homes and businesses were without power in southeastern Louisiana at approximately 6:15 p.m. CDT, according to poweroutage.us .
The storm made landfall around 4 p.m. CDT near Cocodrie in Terrebonne Parish and moved over New Orleans with high winds, dangerous storm surge and torrential rain.
A broken levee in Louisiana
The Jefferson Parish Government posted an image on Twitter showing three breaches in the Grand Isle levee, known as the "burrito levee" because it is a large roll of plastic filled with sand. The levee was severely damaged by Storm Cristobal at the beginning of the hurricane season and work continued through the summer to shore it up.
Terrebonne parish officials said they had received multiple reports of downed power lines and utility poles.
The Lafourche Parish Sheriff's Office, just east of where Zeta made landfall, said similar reports were coming in. Public information officer Brennan Matherne shared a video from the sheriff showing a large boat washed up on a highway.
Hurricanes Delta, Laura, and Marco, as well as Tropical Storm Cristobal, also hit Louisiana this year. Laura was especially devastating, razing homes and businesses along the coast and inland to Lake Charles.
It already affects Mississippi
Storm surge from Hurricane Zeta is penetrating Bay Saint Louis, Mississippi , as Zeta gets closer and closer. The day pier of the city's marina is already under water. Swells of 6 to 9 feet are forecast in the area.
Schools closed in New Orleans on Wednesday and will remain closed Thursday. Several other parishes also closed schools, as did several school districts in Mississippi and Alabama .
In Georgia and Alabama
Communities in the interior of the country were also preparing for Zeta's impacts.
More than two dozen school districts in Georgia canceled classes in person and / or online for Thursday, including several in the greater Atlanta area, WSB-TV reported. The storm is expected to advance in the early hours of Thursday toward that state.
Authorities are recommending voluntary evacuations in various communities from Louisiana to Alabama.