Elderly couple go out to sell daily despite the risks of the pandemic
Despite their illnesses, they set out to sell COVID protection in an attempt to survive.
Regardless of the weather, which during this low season up to 60 degrees in addition to the winds, Mr. Cipriano Ayala, 80 years old, and his wife Andrea Ayala, 75, take to the streets of the city of El Monte every day with the aim of obtaining their livelihood.
Don Cipriano said that he suffers from cancer in the neck, lungs and kidneys, and that he also suffers from diabetes and arthritis.
While Doña Andrea receives a dialysis treatment every night, after being diagnosed for nine years with kidney failure; arthritis has also rendered her unable to walk.
Her husband explained that because they are undocumented they cannot get help from the government. This situation forces them to have to find ways to continue earning money.
"We have to work to pay the rent and the bills," said the man of Mexican origin, assuring that the amount of his rent is 900 dollars a month.
He said that since the couple arrived from Mexico 30 years ago, both have worked as street vendors, among other trades.
About three years ago they began selling tamales, corn and fruit cocktails outside a local clinic in El Monte. However, Don Cipriano says that once the pandemic arose, the authorities prohibited them from continuing the street vending.
"We had [only] about $ 200 for rent and from there we got into debt," he said. "After about six or seven weeks of not doing anything [on admission], a lady gave us masks to sell and said to pay them when we could."
And so it was that a few months ago, the couple decided to start getting on the sidewalk – even putting aside the fear of an active pandemic, which due to their age, puts them at high risk.
Don Cipriano assured that the first month of sale went very well. One day, he says, they sold up to $ 300 worth of face protection.
However, over time, the demand for masks – which began to be offered everywhere – affected the little support they had as a livelihood. Today they have reached the point of selling, if it is a 'good day', only 60 dollars and in the worst case, about 20.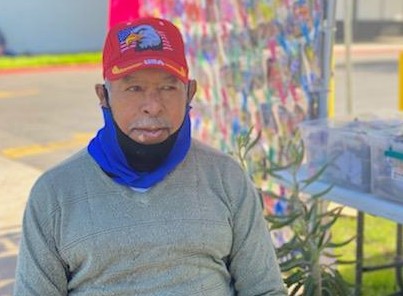 A half process
The octogenarian narrated that he, his wife and his daughter – who is deaf and mute and was 11 years old at the time – fled Mexico three decades ago because they wanted to kidnap them.
Shortly after settling in the city of El Monte, they began looking for a way to legalize their immigration status in the United States.
"I had the evidence of the kidnapping and everything and a lawyer helped me start my process but then he disappeared and I no longer heard from him," he said in an interview with the leading newschannel.
He adds that after that, he went to another lawyer to continue the process, but once they were in front of the judge, their residence was denied. Apparently the daughter did not answer the questions well.
By then, Don Cipriano had already obtained a Social Security number and his driver's license. However, the legal residence card never reached him or anyone in his family.
The Ayala family presented an appeal of their case but the only thing they received was a CD with all the documents of their process. Now Don Cipriano hopes to find a lawyer who can help them with their case.
"I am already 80 years old, my wife is very ill. I need to retire. I know they wouldn't give us much, but at least it's something … Without the residence, we can't do anything, "he said in distress.
He adds that his daughter, who is in charge of connecting her mother to a machine every day from 8:00 pm to 6:00 am, so that she receives her dialysis treatment while she sleeps, cannot receive a salary as a caregiver due to the lack of documents.
Help from strangers
Don Cipriano said that he and his wife are very cautious every time a client arrives at their position. They use hand sanitizer frequently and handle money cautiously.
"We are not afraid of contagion because we know that God has us in his hands," he said.
When he has to go to the clinic for his cancer treatments, he leaves his wife in charge of sales.
On one occasion, he said, a woman came to buy masks and when he asked Dona Andrea to show them to him, she told him that she could not get up from the wheelchair in which she is being transported.
Later he told her his story and the client, moved by the situation of the elderly couple, decided to open a page for them on the GoFundMe portal and call the media to advocate for them.
The immigrant ensures that he will continue fighting alongside his wife until they have the strength. After all, he says, he was diagnosed with cancer nine years ago – shortly after his wife's diagnosis – and was only given one year to live.
"It takes away and comes back, my cancer is incurable but I'm still here," he said.
The couple sells stands at the intersection of Peck Rd and Forest Grove St. in El Monte.
If you want to help them, you can visit their GoFundMe page at: https://www.gofundme.com/f/cipriano-y-andrea-cuenta-medica