Dominic Cummings: PM's top adviser to leave No 10 with immediate effect
Boris Johnson's chief adviser Dominic Cummings has left Number 10 with immediate effect, BBC political editor Laura Kuenssberg says.
Mr Cummings spoke to the PM earlier, she said, and it was decided it was best for him to go now rather than next month after days of turmoil in No 10.
The former Vote Leave supremo had been at the centre of a power struggle in Downing Street this week.
The PM's director of communications Lee Cain has also left.
Mr Cummings was seen leaving No 10 a short while ago carrying a cardboard box.
On Thursday, Downing Street said Mr Cummings would be leaving by Christmas after a row over how No 10 is run and the appointment of a new chief of staff to Mr Johnson.
But Laura Kuenssberg said his departure had been brought forward given the "upset in the team" in Downing Street, for which she said it had been a "difficult week".
She said there had been long-running tensions between different factions in No 10 but this "slow burning fuse exploded fast when it finally happened".
Dominic Cummings and Lee Cain are long-time colleagues, having worked together on the Leave campaign during the EU referendum.
When Mr Cain's exit was announced on Wednesday, it prompted rumours that his ally would also step down.
In response, Mr Cummings told the BBC "rumours of me threatening to resign are invented" but said his "position hasn't changed" since he wrote in January that he wanted to make himself "largely redundant" by the end of 2020.
Boris Johnson worked with Mr Cummings on the 2016 Vote Leave campaign and hired Mr Cummings to be his senior adviser, when he became prime minister.
Six months later the pair's "Get Brexit Done" campaign message helped Mr Johnson win a large majority in the general election.
Mr Cummings has become more of a public figure in the past year and was forced into holding his own news conference at Downing Street in the summer, following controversy over him making a trip to the north of England when non-essential travel was banned at the height of the coronavirus lockdown.

Who is Dominic Cummings?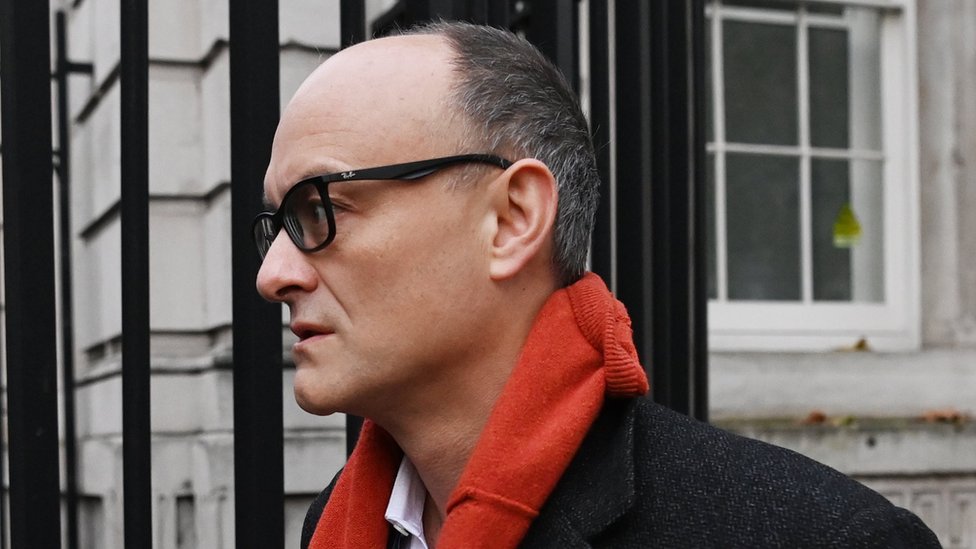 Dominic Cummings, 48, ran the pro-Brexit Vote Leave campaign in the EU referendum and was behind the group's "take back control" slogan
Prior to the referendum he worked for Iain Duncan Smith when he was Conservative Party leader and Michael Gove at the Department for Education
Born in Durham, Mr Cummings went to a state primary school before being privately educated at Durham School. He graduated from Oxford University with a first-class degree in modern history
A longstanding Eurosceptic, he cut his campaigning teeth as a director of the anti-euro Business for Sterling group and once ran a successful campaign to oppose a regionally elected assembly in north-east England
He was portrayed by actor Benedict Cumberbatch in the Channel 4 drama Brexit: The Uncivil War