Dani Martín: "I have been visiting psychologists all my life. If not, I would be lost "
The singer, who publishes the confessional 'Whatever I want', struggles to dominate his demons so as not to be devoured by his character
He has been the last great Spanish pop star. At the age of 23, he saw himself filling the Vicente Calderón stadium and pavilions throughout the country in front of El Canto del Loco. He fulfilled his dream and he also lived his nightmare. With a vulnerable personality, it did not fit well to be continuously under the spotlight and not only from the cultural press: his adventures off stage attracted other types of media. It was when a Dani Martín was seen on the defensive. The last stage of El Canto del Loco was tough, culminating in front of a judge when the group denounced its manager for misappropriation. Martín went broke, lost his sister and embarked on an uncertain solo career that is now a decade old. Today, at 43 years old, the Madrilenian smiles again. Its redemption stage has not finished, but many complexes rest in the gutter of what has already been done.
In his new album, Whatever I like, he puts it that way. It is an album of therapeutic lyrics and eclectic music where Alejandro Sanz, Coque Malla or Juanes collaborate . He is slim and relaxed. He speaks with that neighborhood Madrid accent that will never leave him. We are in a hotel in the center of Madrid. "Maybe it is better that we remove the mask and distance ourselves a little. This is more comfortable, "he suggests.
Question. Cowardly, suffering, insecure, paranoid, unable to enjoy the moment, fearful, prone to anxiety … This is you and so you tell in your songs.
Answer. That has been me in many moments of my life, yes. And I keep working on things to improve. The most important thing is to know where the breakdowns are and work on them. But I still have things like that, yes.
Q. Where is your basic problem?
R. It is difficult to be sensitive in a world like the one we live in, where you have the need to like all the time and where you are afraid of rejection. All that makes you suffer more. And more if you dedicate yourself to what I do.
"I am a person who wants to save"
Q. Where do you find peace?
R. When I am composing, because I feel that there is no one observing or giving opinion. When the moment comes when I have to expose myself, I get terrified. And I even boycott myself: I think that everything is going to be fatal, that the album is not going to be sold … Well, the irrationality.
Q. How do you get out of those shadows?
R. With psychologists. I've been visiting them my whole life. Every time a problem arises I go to therapy and a professional gives me tools to overcome it. If I didn't go to the psychologist I would be lost. I think it's also a struggle to really live, not to live in character, hooked on everything that gives you success. I am a person who wants to save himself and who wants to be happy. That is why I need the help of a psychologist.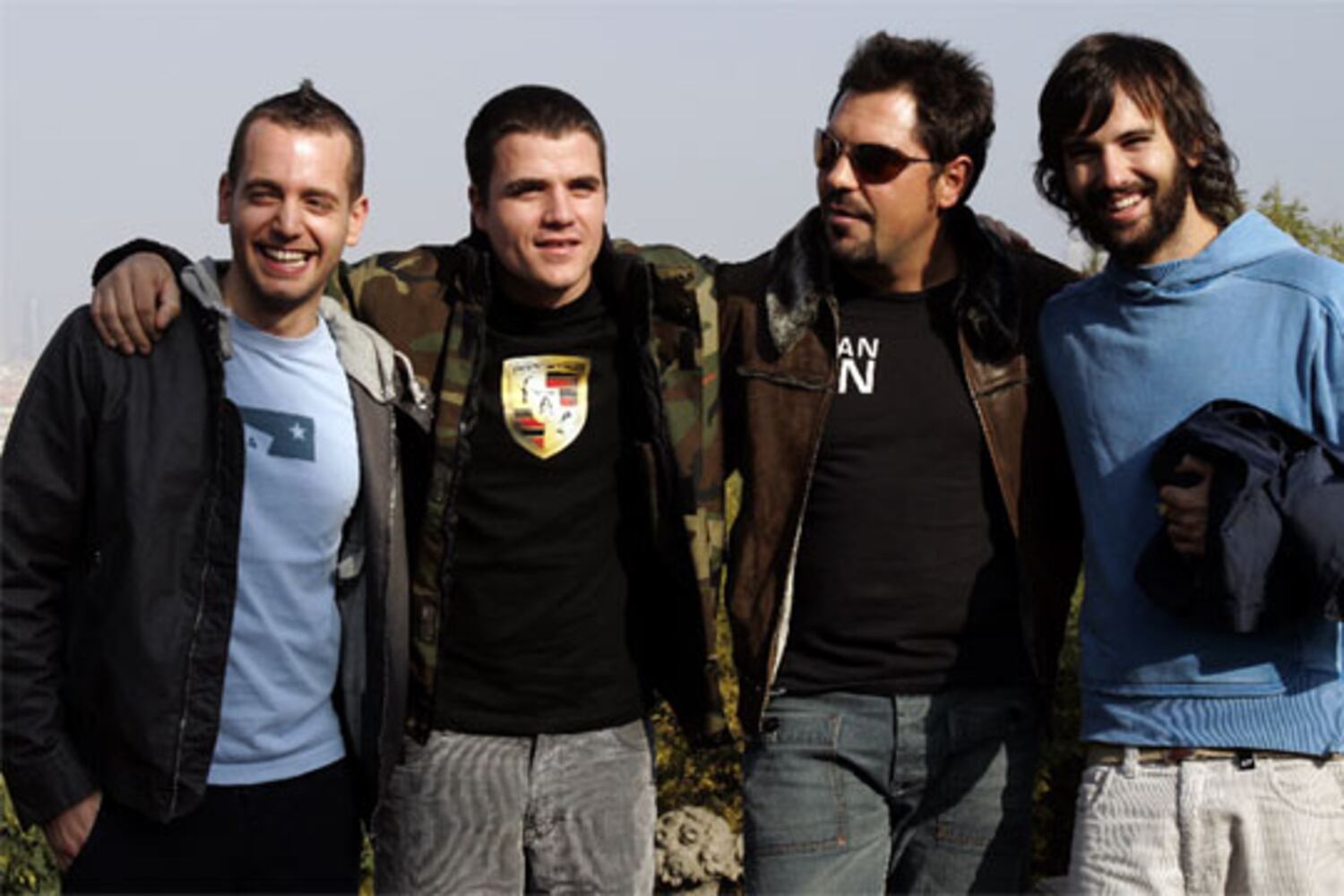 Q. In the past, I was in great need of recognition from critics. I even believe that he vetoed journalists from doing interviews.
A. I don't think he vetoed anyone. I still preferred that one critic came to another. I admit that I have been afraid of criticism. I was very young and it hurts you that they mess with you, with your dream. But now I care less if fellow musicians or critics like me. It is not up to me.
Q. When do you come to that conclusion?
A. I don't remember. I don't even know if I have done it 100%. But I do believe that I am more aware of what I want to do, to be honest with me, and not ask myself if Carlos Tarque , Iván Ferreiro or you like it. I don't care so much anymore.
Q. Why do you think El Canto del Loco was criticized so much in the media?
R. It became more critical of the people who came to see us than what happened on stage. There was like a resentment towards the public. And I think it has been something that has happened with many groups: Tequila, Los Ronaldos, Hombres G …
Q. Are you shy about listening to a song from El Canto del Loco?
R. None. I love all of them. José's mother , Slippers, Kisses… In fact I'm going to play them on the next tour.
P. Do you feel identified with them, still 43 years old?
R. They are part of my life. I am proud of them. They are songs perhaps of the moment, of a generation and that some have been able to stay there longer. But if you put them in a joint at three in the morning, they work.
P. El Canto del Loco is coming back, right? Like Hombres G and so many others did.
R. I am very clear that no. It would be taking a step back.
Q. Do you see your cousin [ David Otero , also founder of El Canto del Loco]?
A. No.
Q. Are they angry?
A. No, quite the opposite. I am delighted with him, I love him, he is my cousin. But we have no relationship.
Q. How long have you not talked to him?
A. About four months. During the pandemic we have written to each other, because we are family. I have no relationship with him, but that does not mean we are angry. His mother and father are brothers. And, well, he wants to hear from his uncles, just like I want to hear from mine. But we are not related: we are very different.
Q. In your new album you have composed a song for your sister [Miriam, who died in 2009 at the age of 34 from a stroke], the third now, but this time in a positive key, How I would like to tell you . How do you get out of such a tragic situation?
R. I do not know if it comes out, but you learn to live with a sadness that one day turns into emotion. Eventually a Christmas comes and someone says: "Let's toast Miriam." And everyone smiles. It is when a peace and a memory begins. And working with psychologists, and having a harmonious mother and father. Sometimes you hear phrases like: "I couldn't bear this or that thing." But we can. My mother smiles today after 11 years. He goes to drama classes. He has fallen in love with life again. My father has retired and has started restoring old furniture. And I have allowed myself to dedicate a song to my sister not out of regret, but with a smile and in peace.
Los Chichos, La Polla Records, Hombres G …
P. Your new album is, let's say, monopolizing, with many styles, without a unitary concept.
R. Along with all the styles that I listened to when I was little: Red Hot Chili Peppers, Hombres G, La Polla Records, Spanish rap, Los Chichos , Alejandro Sanz … This album is that. Why did I sing rumbas with my friends and I have never dared, why have I rapped at home and never on a record … Doing what you really want is wonderful because otherwise you feel like an artist who is doing what he knows best or less is good …
P. There are two songs about relationships: Portales , where the beginning is told, and Julia, who narrates the end. In Portales she begs: "What a beautiful story, that it doesn't stop here."
R. It has been difficult for me to move from mental derangement and start living what true love is. I've always been hooked on that wonderful moment that is admiring someone all the time. But I have been taking steps and entering other rooms that I did not know until now. My last relationship has been with a young person who has rejuvenated me. I have found myself hanging out until the late hours and doing things that I hadn't lived for in a long time.
P. But always looking for that intensity is …
R. … exhausting. Yes. But it's better than living without that intensity and feeling the same all day. I don't think there is a life model that has to be followed. I don't think I'm going to be left alone because I want to keep getting excited. Yes, it would be wonderful to enjoy the same in other moments of the relationship.
Q. "Julia, how does my world look from your feet? If you bleed I will understand that you close the door again, "he sings in Julia.
A. Sure. It is not easy to be by my side: to endure all the time that a person is talked about, that in the conversations after the concerts they are flattering me. It is not easy, no.
Tired of being Dani Martín
Q. Do you sometimes get tired of being Dani Martín?
R. I have precisely written a song now called I got tired of hearing my name. It is true. I went to Chicago to see Green Day and it was amazing. Nobody knew me and I was able to freely kiss the person I was with, I could go drunk on the subway … I can do it in Spain, but it inhibits me. I go to a restaurant in Spain and the person I am with is telling me something important about his life; Then someone enters the scene and asks me for a photo with a small child. And suddenly, you put your friend or your partner in the background to take your picture with this child. It is another of the things that I have to work on. Perhaps he did not know how to do it for fear of rejection from fans and the public.
Q. Still without a manager?
R. Indeed, I have not . For 11 years.
Q. Have you enjoyed the two years that your last manager , Carlos Vázquez Tibu,was in jail? [El Canto del Loco filed a criminal complaint with its representative for misappropriation and corporate disloyalty and the judge sentenced him to two years and three months]
A. No. I have never wanted Tibu to go to jail. I think that wanting someone to go to jail is from a person who has no feelings. It's a very ugly feeling.
Q. So you didn't deserve it?
A. Well, the judge said yes. And I guess so. The thing is, I'm not a guy who points to people and says: fuck you, I like you like this. I would have loved if he had given me back what the sentence that was carried out says.
Q. Is it true that it was ruined?
A. Yes, when El Canto finished [2010] there were a lot of things to collect and a crisis came and I had lent money so that my father could continue with his business. Yes Yes. It was a very, very hard moment.
Q. Can you define the term "ruin" in your case?
A. "Ruining" means that you start a solo career and that instead of filling sports palaces you fill smaller places, such as theaters and you have certain expenses and in your bank there is money that is running out. And you have no money to continue. You start to do concerts and concerts and you start adding coal to the locomotive and things start to work and give you the possibility of having the office you want to have, of keeping the salaries you want to have and of paying people what you want to pay . And once again things are able to work the way I like, which is paying people well and putting on good shows.
The talk continues, no longer recorder. It's eight in the afternoon on a Wednesday and the musician still has work: at 11.30 p.m. he must connect to Instagram with his followers. Before leaving he slides: "How I would like to find stability." Martín continues working on it …