Covid vaccine: How will we keep it cold enough?
News about the world's first successful trial of a coronavirus vaccine was greeted with jubilation on Monday.
But while there are a number of reasons to remain cautious, there's at least one one big practical hurdle to overcome.
Speaking on Radio 4's Today programme this morning, Health Secretary Matt Hancock spoke of the "mammoth logistical operation" of transporting the Pfizer/BioNTech vaccine from its point of manufacture to the arm of the patient.
That's because it cannot be removed from a temperature of -70C (-94F) more than four times.
And that temperature is much lower than what the average home freezer can reach.
Most other vaccines do not require anywhere near such low storage temperatures, so there is not a widespread infrastructure already in place.
In its own disclosure notice, Pfizer acknowledges there are "challenges related to our vaccine candidate's ultra-low temperature formulation and attendant storage, distribution and administration requirements".
At the Downing Street press conference on Monday, England's deputy chief medical officer Prof Jonathan Van-Tam warned that even in normal times, "things can and do and have always gone wrong" when it comes to both vaccine manufacture and distribution.
How will it travel?
In the short-term, Pfizer has a plan.
The vaccine will be distributed from its own centres in the US, Germany and Belgium. It will need to travel both on land and by air, face potential storage in distribution centres in between stages and the final hurdle will be local delivery to clinics, surgeries, pharmacies, hospitals – anywhere the vaccine will be administered.
As revealed by the Wall Street Journal, Pfizer has developed a special transport box the size of a suitcase, packed with dry ice and installed with GPS trackers, which can keep up to 5,000 doses of the vaccine at the right temperature for 10 days, as long as it remains unopened. The boxes are also reusable.
Wiltshire-based firm Polar Thermals makes similar boxes for other vaccines and counts Pfizer among its clients, but not so far for this particular purpose.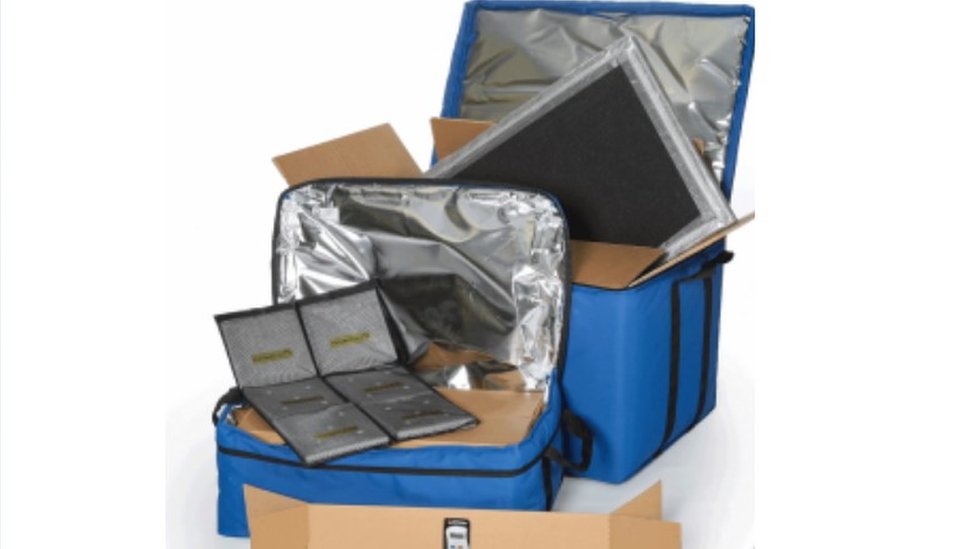 The box is not likely to be cheap. Head of sales Paul Harrison says a standard chilled transport box, which will retain a temperature of up to -8C (not -80C) for five days and is big enough to hold 1,200 vaccines, costs about £5,000 per unit – although they can be re-used thousands of times.
His firm uses aerogel as insulation, rather than dry ice – which could come in handy if a global shortage of carbon dioxide from earlier this year continues to affect the availability of related products, of which dry ice is one.
The US Compressed Gas Association however has said it is committed to meeting demand.
What happens after 10 days?
The vaccine can survive for a further five days once thawed, Pfizer has said, but this does not buy a great deal of extra time.
In the longer-term, Public Health England says that in the UK "national preparations" are under way regarding both central storage and distribution of the vaccine across the country, but declines to give details.
As it stands, extreme cold storage is certainly not commonplace, and your local GP is unlikely to have it.
"We do not have fridges in general practice that go down to that sort of temperature," GP professor Sam Everington told the BBC's Newsnight programme on Monday. "So we will need them."
And that issue is not exclusive to the UK. Dr Gregory Poland of the Mayo Clinic in Minnesota, told Reuters: "We're a major medical centre and we don't have storage capacity like this."
Some institutions, such as universities and research labs, do have the right storage capacity. Is there a possibility they could be donated or lent out as temporary vaccination homes? In the UK, universities shared resources at the height of the first wave of the pandemic, including PPE-making equipment and ventilators.
"We may see existing fridges donated," said Dr Michael Head, epidemiologist at the University of Southampton.
Global view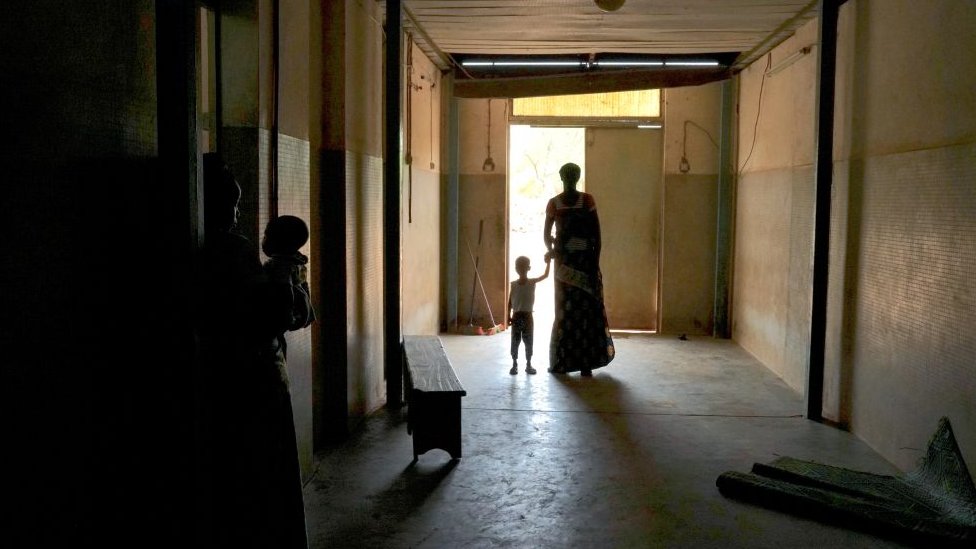 The situation in developing countries is even more tenuous.
The Associated Press news agency reported last month that Burkina Faso, in central Africa, was already short of about 1,000 clinical fridges.
The World Health Organization, in conjunction with UN children's agency Unicef, has an ongoing project mapping cold storage facilities in anticipation of a Covid-19 vaccine.
The Financial Times reported that Unicef aimed to have 65,000 solar-powered cold fridges installed in low-income countries by the end of 2021.
"If we're focusing on the cold chain, Europe and North America have a strong cold-chain infrastructure. If you go to Africa, some parts of Asia, it's very problematic," says Michael Bourlakis, professor of logistics, procurement and supply-chain management at Cranfield School of Management.
"Being positive, I know very well that the planning is there, companies started planning supply chains last night, working to collaborate with others and to share information with each other," he said.
"In the supply chain, we are used expecting the unexpected. Having said that the scale, complexity and capacity of this are unprecedented."