Covid-19: Talks Continue Over New Restrictions For Parts Of England
Talks are continuing between the government and local leaders over the expansion of the strictest coronavirus restrictions to more parts of England.
Liverpool City Region is the only area in the top tier of restrictions, with pubs and bars not serving meals closed.
But Greater Manchester Mayor Andy Burnham has said he is meeting the PM's team later to discuss the issue.
And London's mayor has written to Boris Johnson saying more financial support is needed if the city faces new curbs.
Sadiq Khan said it was likely London would move to "high alert" – the second highest tier – "very soon, possibly this week".
Greater Manchester and Lancashire are at risk of being placed under "very high alert" – the highest level of restrictions – with further discussions taking place later.
MPs in Greater Manchester and London have both been invited to join ministerial calls on Thursday morning.
Speaking to BBC Breakfast, Liverpool mayor Joe Anderson said he was "categorically told" last weekend that Liverpool City Region would be placed under the highest tier restrictions.
"The fact is that the government will decide who goes into Tier 3 today," he said, adding that he expected to see more areas being placed under "very high alert" later.
Mr Anderson acknowledged that the "virus is out of control and something has to be done", but called for "economic intervention to support people".
In the week up to 11 October, local authority figures showed there were 660 cases per 100,000 people in Liverpool, 466 per 100,000 in Manchester, and up to 135 per 100,000 in London (in Richmond upon Thames).
The average area in England had 89.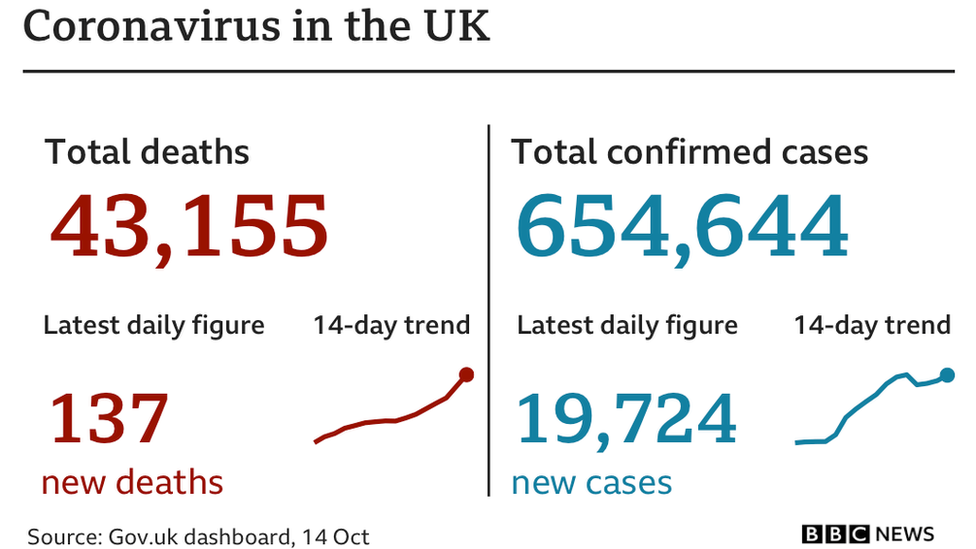 The new three-tier system sees every area of England classed as being on medium, high or very high alert.
Most of the country is on medium alert, which means areas are subject to the national restrictions currently in force, including the rule of six on indoor and outdoor gatherings and the 22:00 closing time for pubs, bars and restaurants.
In addition to these restrictions, in areas on high alert – including north-east England, much of the North West and parts of the Midlands, along with West and South Yorkshire – different households are not allowed to mix indoors.
Areas on very high alert face extra curbs, with different households banned from mixing indoors or outdoors in hospitality venues or private gardens.
Pubs and bars will be closed unless they are serving substantial meals and there is also guidance against travelling in and out of the area.
Further restrictions may be agreed for particular regions in the top tier and in the Liverpool City Region gyms, leisure centres, betting shops and casinos have also been forced to close.
ed to close.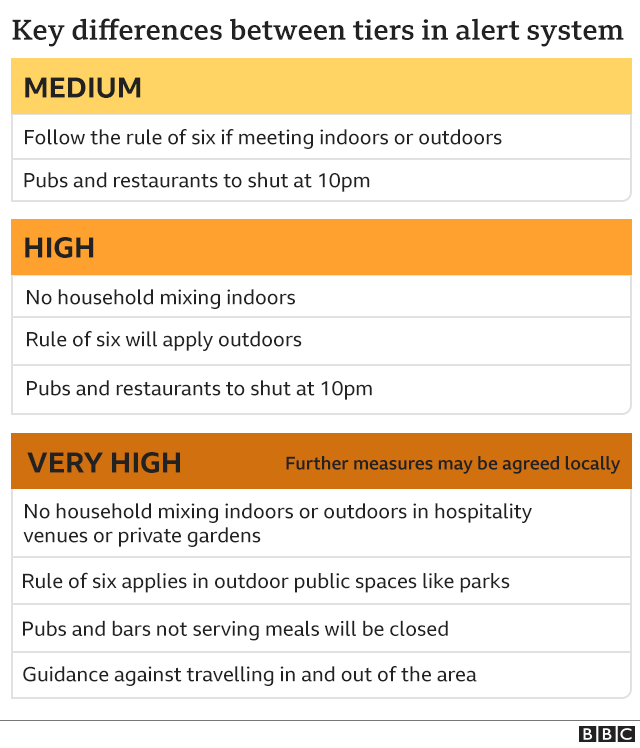 In a meeting on Wednesday, health officials from the Joint Biosecurity Centre (JBC) suggested that Greater Manchester along with much of north-east and north-west England and parts of Yorkshire and the Midlands should be moved into the top tier.
But the recommendations of the JBC will not necessarily be enforced and discussions are likely to continue between local and national politicians and officials over the coming days.
Health Secretary Matt Hancock is due to update MPs on the latest measures in a Commons statement later.
Labour's Mr Burnham said he had a briefing with the deputy chief medical officer for England, Prof Jonathan Van-Tam, on Wednesday and was expecting a further meeting with the prime minister's team later.
He has argued against Greater Manchester being put into the top tier, saying that without increased financial support they would prefer a so-called "circuit-breaker" – a short, limited lockdown to help bring the virus under control.
Mr Burnham said he would consider a legal challenge if the government placed the area under very high alert, adding such a move would be "by imposition, not consent".
In contrast, Mr Khan said he would back London moving from tier one to two – but called for a package of financial support, including for businesses struggling under the restrictions, despite being allowed to remain open.


A final decision to move Greater Manchester and Lancashire into the highest tier of restrictions is one for politicians – and has not yet been made.
But there is increasing concern about the spread of the virus in both areas – and a growing belief that tougher measures are likely.
Mr Burnham is demanding more support for local businesses, which would be hit hard by a further shutdown of large swathes of hospitality.
Local leaders in Lancashire want more support too – but believe new restrictions are all but inevitable.
There are still decisions to be made – but if agreed – the further restrictions could cover another four million people.
And other parts of north-east and north-west England could follow after a recommendation by health officials on Wednesday. Again, that still has to be approved by politicians.
Meanwhile London – and its almost nine million residents – could face a ban on households mixing indoors soon, with the city's mayor believing a move to the second tier – high risk – is increasingly likely in short order.

Boris Johnson has defended his three-tier system as the "right way forward", saying it would "avoid the misery of a national lockdown" – but he did not rule out going further.
Labour leader Sir Keir Starmer is continuing to call for a "circuit-breaker".
Meanwhile, schools in Northern Ireland will close from Monday and pubs and restaurants face new restrictions from Friday.
Wales is preparing to ban people from parts of the UK that have high rates of coronavirus from travelling to the country from 18:00 BST on Friday.
And in Scotland, First Minister Nicola Sturgeon has advised Scots against travelling to high risk areas of England, singling out Blackpool as being linked to "a large and growing number" of Covid-19 cases in her country.
On Wednesday, a further 19,724 coronavirus cases were recorded in the UK, while 137 more people have died within 28 days of testing positive for the virus.